MAKING EVERY ENGINE UNIQUE
The Series 2000 and Series 4000 are products that make everyone hark back to the good old days. These engines are powerful and dependable, meet all the right emission requirements and veritably sip fuel. Indeed, Rolls-Royce Power Systems has already sold over 100,000 of them in the past 25 years, and nearly every single one was different from the next. In reality, any talk of THE Series 2000 or THE Series 4000 is something of a misnomer. Scarcely any two engines in these series are the same – each one being tailored precisely to the needs of its owner and the specific duty it is to perform. Actually, it's only the big parts like the crankcase, crankshaft or flywheel housings that are identical (or rather very similar, because even these vary). However, these engines do share something in common: When launched in 1997, their cubic capacity per cylinder was just over two and four liters respectively (hence the 2000 and 4000 designations). Today, this has grown to 2.23 and 4.77 liters respectively. But that's the point at which the commonality across these series effectively ends.
Different demands – different designs
Engines that power ships, for example, need a completely different cooling system from those used in dump trucks. Ships have dual-circuit cooling systems that pump seawater through a heat exchanger in the same way as air passes over a car radiator. Like cars, engines used in dump trucks or locomotives dissipate waste heat to the surrounding air but require cooling systems of an appropriate size. Another difference is safety technology. The surface temperature of marine engines is not allowed to exceed 220 degrees Celsius, as prescribed by the certification authorities. And – with few exceptions – ships generally operate at sea level. Not so with dump trucks. The mines where they do their work are often located at altitudes of several thousand meters, where the air's oxygen content is much lower. In addition, the engines have to be much more robust to withstand environmental factors, because mines can be extremely cold, hot or dusty places. For an engine driving a generator, on the other hand, the most important thing is to get up to speed quickly. Emergency generators only have a few seconds to reach full power. And there is one other key factor that determines how an engine is tuned: the maximum time permitted between major overhauls. For a yacht engine, which is often called upon to deliver the very highest performance, this is 22,000 operating hours while a rail engine used for shunting locomotives. A 4000 for tug boats, on the other hand, with its completely different application profile, has to last 54,000 hours before it is overhauled.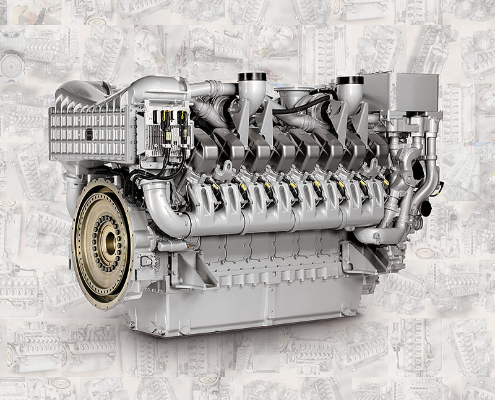 Another difference: emission limits
Another distinguishing feature of the engines is the emission limits they have to meet. This is because the specifications of the certification authorities vary across the world and according to application. Engineers at Rolls-Royce Power Systems have therefore developed a modular system with a whole bundle of technologies that can be used to prevent pollutants from being produced or entering the atmosphere.
Custom engine designs for every application
Using these building blocks and those produced while meeting the requirements of the custom applications, engineers have developed ever new variants for the various uses of these engines over the past decades. 2010, for example, saw the launch of the first mtu engine equipped as standard with a diesel particulate filter. As such, it complies with the European emissions standard IIIB. A year later it was joined by the first SCR system used on mtu engines to treat exhaust gases before venting, rendering nitrogen oxides harmless in electrical generator sets. Today, even marine engines to current emission standards are only available with SCR systems.
Customer requirements driving true customization
But the work does not end with technological development of the engines. These produce an engine that is perfect for trains, dump trucks or ships – and then the customers' requirements come into play. Every locomotive, ship or dump truck with a Series 4000 engine is different. This is where the application engineers come in. Their job is to take a Series 4000 engine, which has been assembled using carefully chosen tech modules, and tailor it with precision to the customer's requirements. What type of traction does the customer want? Is it a diesel-electric traction system with the diesel engine driving an electric motor? Or a diesel engine with a direct drive? What add-ons are needed? How much installation space is available? What connections are required? Questions upon questions that take months – sometimes years – of work to resolve.
Increasingly, mtu Series 2000 and Series 4000 engines are also being used in integrated systems such as hybrid drive systems or microgrids. Here, they must not only meet the requirements of the customer's application, but also run reliably in interaction with other components for power delivery and power generation. The use of digital components is also becoming increasingly common, allowing customers who send data to the mtu Go platform to monitor and manage their fleets.
All these adaptations are what turns the mtu Series 2000 and Series 4000 into engines that fit the customer's requirements like a glove.
https://mvtuiran.com/wp-content/uploads/2021/10/594_Bahn_16V4000R84.jpg
600
800
peyman bahrami
https://mvtuiran.com/wp-content/uploads/2021/04/logo-mtu.png
peyman bahrami
2021-10-31 11:39:44
2021-12-01 14:59:12
MAKING EVERY ENGINE UNIQUE